ORPHANAGE COMPLETION
MONTROUIS, HAITI W.I.
NOVEMBER, 2002

Dear Partners
The House Of Bread orphanage is now operating.

This vision and dream of faith that begun in February, 2000. God has raised up through prayer and the love of his people who believed and gave...And gave...And gave...And they are still giving to make sure that lives of children in Haiti will be changed forever. To God be the glory

Jesus said, "Suffer the little children to come unto me and forbid them not, for such is the kingdom of heaven"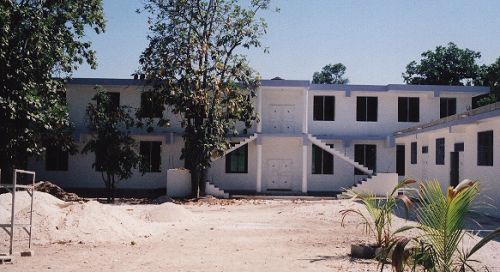 The building above contains space for children to sleep, eat, and has space for their school. The building also has a very large kitchen and dining room with rooms for visiting short term individuals and mission teams.
The building you see at right is a portion of the professional school building where Bible, praise/worship, music, English, conferences, and discipleship is being taught. This building also serves as a Kindergarten Shcool.
Click here to see how you can donate.
BECOME A PARTNER IN THIS MINISTRY AND HELP US TO HELP HAITIAN CHILDREN CHANGE THEIR COUNTRY
---